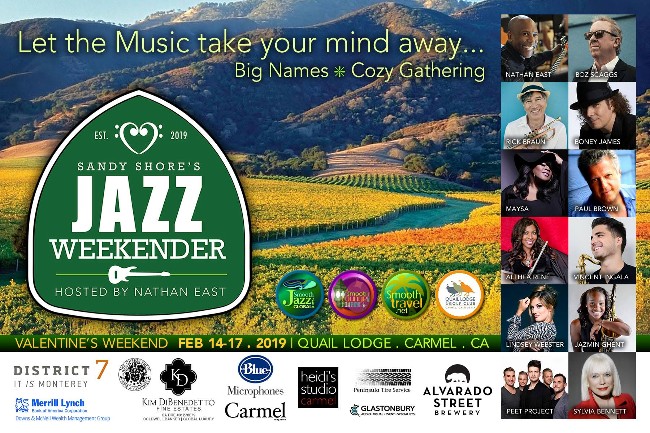 Sandy Shore's Jazz Weekender : Valentine's Day Weekend – FEBRUARY 14-17, 2019
A California-inspired, music destination in the Monterey Bay area. Held in an intimate venue at Quail Lodge featuring nightly concerts hosted by world renowned bassist Nathan East with luxury seating, high-fidelity sound and world-class performers. Lifestyle excursions including wonderful wines, craft beer, Valentine's dinner and Sunday Jazz Brunch in Monterey's wine country in a 850-acre paradise!
Artist Guests : Boney James, Boz Scaggs, Maysa, Althea Rene, Rick Braun, Vincent Ingala, Lindsey Webster, Peet Project, Paul Brown, Sylvia Bennett, Jazmin Ghent, Joe Hurworth, Rob Zinn and the Nathan East Band feat Greg Phillingaines, Steve Ferrone & Michael Thompson.
The days are yours to explore the Monterey Peninsula, or join us for organized excursions including golfing on Quail Lodge's Award winning 18-hole course with double Grammy winning guitarist Paul Brown, also Putting with Peet Project on Quail's 9-hole putting course, and our exciting Jazz & Wine Line Luxury Bus Tour to four Carmel wine tasting rooms featuring live Smooth Jazz at each stop (Paul Brown w/Rob Zinn, Jazmin Ghent & Joe Hurworth).
Two musical meals are also available with limited seating during the Weekender, the Valentine's Dinner with smooth crooner Sylvia Bennett and the Sunny Side Upright Sunday Jazz Brunch with the Nathan East Trio held in the Covey at Quail Lodge.
www.jazzweekender.com
RELATED LINKS
www.btwconcerts.com
The home of;
San Diego Jazz Festival
Cancun Jazz Festival
Las Vegas Jazz Festival
Arizona Jazz Festival
www.bbjazz.com
BB JAZZ is a non-profit organization with a dual purpose;
•Raising awareness and funds for children with Autism.
•Bringing Smooth Jazz to the community of Huntington Beach, California.
www.cinque-enterprises.com
Internet Entertainment Networking
Join San Diego Smooth Groovin
And get The Entertainment Exposure You Deserve!
If you know of, or if you are an Independent Artist and you're fed up with these people who are out here charging you money and making false promises to you about your entertainment future, If you are fed up with people who are requesting your music and never giving it any airplay, If you are in need of a leg up or a helping hand, come on over to San Diego Smooth Groovin and get in on the ground floor of this networking opportunity that can get you the exposure you need! Network with other Artist, Venues and Fans to make yourself more marketable.
If you just want to post your music for others to hear or if you just want a connection to hear new music, San Diego Smooth Groovin is the spot!
We're here to help you help yourself!
Stop by the Groovin U Lounge and see how we propose to get you the exposure you deserve. or just come by the Groovin U Lounge, Kick it and listen to some good music and watch some good video!
www.jasonweber.net
Smooth Jazz Saxophone with Attitude and Sophistication.
www.jazzmynepr.com
The Jazzmyne agency brings a uniquely personal, yet substantive approach to the vast world of public relations. Specializing in publicity, media management and management consulting, the firm has been recognized nationally for its successfully impactive media campaigns.
www.goldcoastclassic.com
The Gold Coast Classic is an organization that brings two Historically Black Colleges to San Diego to play their college football games at QualComm Stadium.
www.smoothjazznews.com
Smooth Jazz News is a contemporary jazz lifestyle magazine, published monthly February through December.
www.patrickyandall.com
Patrick Yandall: Guitarist based in San Diego.
monitor.blackportal.com/
San Diego Monitor – News and Business Journal
www.stevelaury.com
Steve Laury: Guitarist based in San Diego.
www.makaiband.com
Welcome! You've found MAKAI… San Diego, California's Premier Dance and Show Band! Come on in and experience the sights and sounds of MAKAI.
Appearing nationally in Night Clubs, Wedding Receptions, Corporate Events and Private Parties, MAKAI is exciting and truly unforgettable. Performing Swing, Funk, Disco, Pop, Soul, R&B, 70's, 80's, Jazz and Rock & Roll, MAKAI displays a versatility that appeals to a wide range of audiences. MAKAI will make your event an enjoyable and memorable success!
www.jazzspel.com
Read about your favorite jazz and gospel artists in The Jazzspel Journal Magazine
www.nuoppinc.com
Public Relations
www.rollingout.com
Urban weekly magazine
www.sdconcertsinthepark.com
Tayari Enterprises strives to bring local, regional and world-class artists to a public venue nearby to residential areas. They will strive to stimulate the economy of a multi-ethnic community by hiring artists, crews and contractors from the area, encouraging vendors from the area to participate and freezing prices of concert venues providing possibilities for bi-monthly concerts. Portions of proceeds generated will be donated to area non-profit organizations.
www.rainbowpromotions.com
Rainbow Promotions is one of Southern California's premier promotions and event management companies. Services include
EVENT MANAGEMENT:
PROMOTION & PRODUCTION
PLANNING
ADVERTISING & MARKETING
PUBLIC RELATIONS
STAGE SYSTEMS, LOGISTICS & SECURITY
TALENT AGENCY
BUYING
BOOKING
CONTRACTS
www.ecpac.com.
Don't miss your opportunity to get face-to-face with your favorite performers at what's been awarded "the best acoustic venue in San Diego".
www.greatscottpr.com
Great Scott P.R.oduction designs and executes full-service publicity campaigns specifically for recording artists to support album releases, concert tours and special events on the national, regional and local levels, including specialty markets (i.e. urban, jazz, adult pop, modern rock, etc.).
www.calvinbaugh.com
Trinity Media Productions. Bringing you the ultimate in entertainment. From start to finish TMP will provide your event with the quality you expect in the Motivational Speaking arena, and/or Musical Entertainment forum.
www.steveharvey.com
Entertainment
www.ebyrdcom.com
Media & Public Relations